Isela Quijas is an independent filmmaker and editor who takes pride in coming from low socio-economic neighborhoods in Southern California. Some of her work has been nationally recognized and commended by organizations like Mountain Dew, Blaze Pizza and CIFOR. She's currently a member of Women In Film in Los Angeles and is spearheading a visual research project called 'When The Streets Read' at the University of California, Riverside.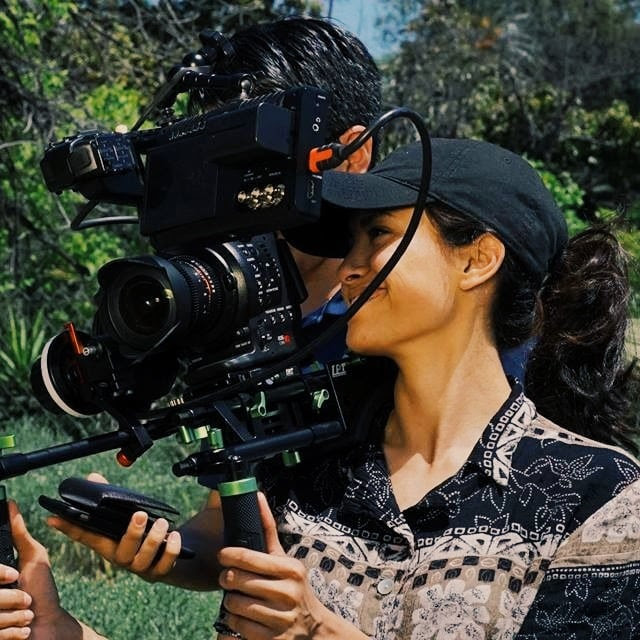 What made you become interested in filmmaking?
It was an aggregate of things. Mostly, I like that it allows me to implement various personal interest into one medium and that it's a viable tool to communicate ideas with my low socio-economic neighborhood.
What education, schooling or skills are needed to become an editor? And what suggestion do you have for someone who can't go to traditional school but wants to become an editor?
Traditional school isn't necessary to learn the skills to edit and in my opinion, very few institutions can teach you everything about editing because it's a craft that's constantly developing. However, I find that most things are online or at the library. I would say don't wait for an institution to feed you this knowledge to get started, take it anyway and from anywhere you can find it.
When you start editing, do you stick to the script and the storyboard, or do you start interpreting right away?
That depends on the project and how much creative freedom the director wants me to have.
Do you cut to music or without sound? How does sound influence your cutting?
I love cutting to music but not every project calls for it. However, when it does, I allow it to govern the pacing of my cutting an animation.
Are there rules for editing certain types of scenes (i.e. comedy, dialogue, action) that you like to follow – or like to break? Examples?
I never felt comfortable adhering to the notion that there's set "rules" in the filmmaking process but rather guidelines. However, in my experience, as simple as they are, L cuts and J cuts are imperative to most kinds of scenes regardless of the genre. People have an intuitive knack and notice something is slightly off when they aren't used.
What kinds of things inspire you? Do you have any personal rituals, or maybe a creative exercise you do to get your head in the right mood before you start?
My low socio economic neighborhood inspires me. I live 15 minutes away from the location in San Bernardino that was attacked by terrorist in 2015 and the school shooting that happened in April of this year.  This community is deeply disregarded and misunderstood. It's why I started an ongoing academic visual research project that challenges the way these communities are widely perceived and I use filmmaking, street art and graphic design as a tool to do this. We're still not completely developed but you can visit whenthestreetsread.org to learn more.
We see that you are apart of the Women in Film Los Angeles and you've also interned for PBS. How have these two internships aided in your development as a filmmaker? And what would you tell someone who maybe interested in interning for film (any suggestions)?
I'm more of a member than an intern but I'd say apply but beware of seeing them as the end all be all. I worked various positions on sets for free and it helped me understand the significance of every role and whether they suited me as an individual. It was only after these experiences and directing my own projects that becoming a member at WIF was a possibility.
At WIF, I got the opportunity to meet the Ava Duvernay. She will never remember me but her encouraging words to me will forever be etched in my mind. So I would recommend you apply! There's nothing to lose.
We see that not only do you wear the hat of an editor but you also director. What inspired you to become a film director?
I was curious to see if I could do it the first time and when I did it again and again, it was by necessity. I realized no one was going to create the visual project I always yearned for when I was younger so there was really no other option but to create it myself.
Do you think it's necessary that a director know the basics of the camera in order to be a successful/well rounded director?
Perhaps it's not necessary if you have a great Director of Photography who understands your intention but having some cognizance of a camera allows you to explore the aesthetic of the film further. Cinematography is a strong tool to set a films tone. It definitely can't hurt.
How do you earn a living and sustain a career doing what you love?
Well, I'm still a student so scholarships definitely help. However, I also hold a job at RCC's film department as an editor and graphic designer and I freelance on the side. Some days, I may PA on a commercial shoot for money and other days I'll take on video editing and design gigs from fellow filmmakers
How did you also become interested in animation? Do you see yourself working in this area more?
My boyfriend taught me some motion graphics and design so I wouldn't have to depend or pay anyone else to this for my film projects. It allowed me to have more control. Now, it's these skills that are paying off the most. I definitely see myself working more in this area.
What's next for you?
Hopefully, I can get my visual research project another grant that will allow me to take it to conferences.
How can we keep in touch with you?
Instagram: @Iselabrate
Vimeo: https://vimeo.com/user27396162
Behance: https://www.behance.net/IselaQuijas
Visual Research: Whenthestreetsread.org
Shivawn Hill, is a writer, director and a storyteller at heart. She's currently in post production with her short documentary film. She believes that one day soon she'll form the ultimate group of Storytellers who will travel the world to share the stories of creative peculiar people. Come hang out with her on Instagram.